With the weather getting chillier, today I am sharing with you a roundup of my favourite 7 recipes to warm you up. Lockdown may have you feeling like every day is Groundhog Day, but your meals don't have to follow suit! All of the below recipes I have selected are easy to cook, and will scratch that restaurant quality itch you may be missing!

Full recipe and ingredient lists are all linked below
Butternut Squash Soup
Cookie + Kate
Prep Time: 10 minutes
Cook Time: 55 minutes
During these Autumn months, I really love cooking and eating squash vegetables. Although technically a fruit, butternut squash is rich in Vitamin C, a source of Vitamin A and can be roasted, toasted, sautéed and puréed for soup! This meal will go down a treat, especially with some crusty bread.
Beef Goulash
Hairy Biker's
Prep Time: 20 minutes
Cook Time: 2 hours and 35 minutes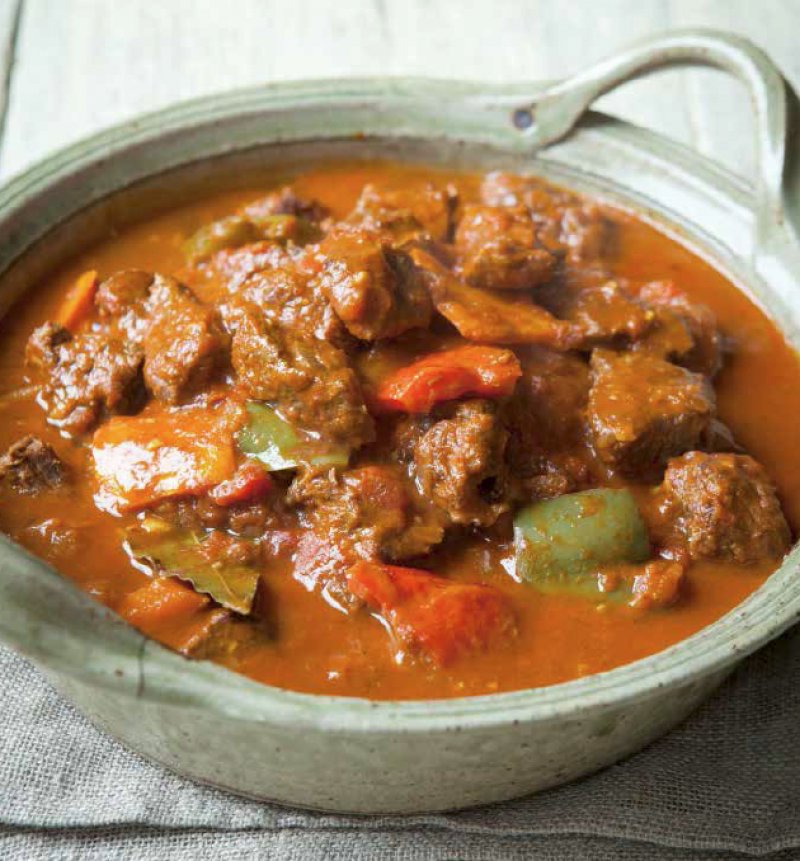 I first discovered this recipe as a student where a slow cooker was my best friend. Start preparing this in the morning and let it's flavours marinade all day. This hearty dish can be served with either bread, rice or potatoes.
Pulled Pork Burger
Inspired Taste
Prep Time: 30 minutes
Cook Time: 8 hours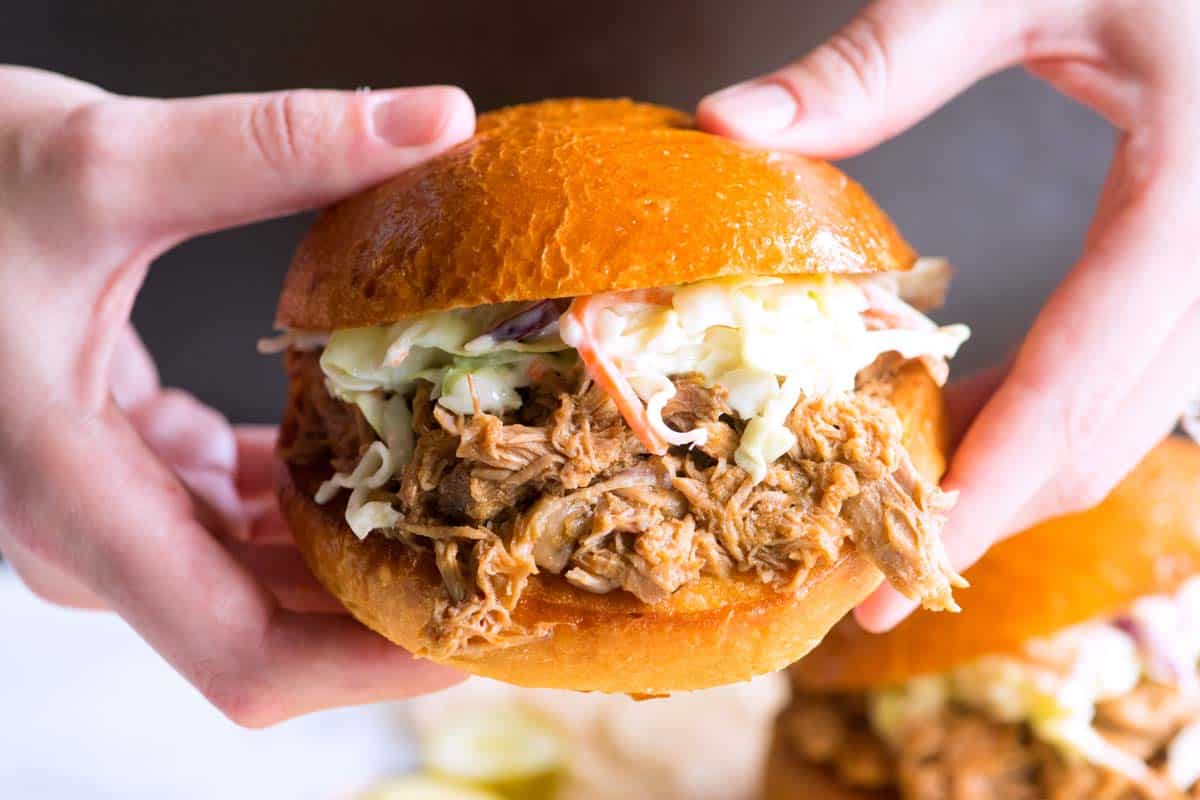 Another slow cook meal of dreams. Serve this burger with a brioche bun for an instant gourmet spin. Use the leftovers for tacos, meaning you also double up on meal prep – that's if there are any left!

Vegan Stew
Healthy Living James
Prep Time: 10 minutes
Cook Time: 30 minutes
I discovered this after having an intense craving for black beans and sweet potato, and boy you will not be disappointed! If you struggle to find black beans in the shops, you can absolutely swap it for spicy red chilli beans or kidney beans (or both!). I added these all and it was delicious! Serve with rice or quinoa.
Chicken Tray Bake
BBC Good Food
Prep Time: 30 minuted
Cook Time: 30 minutes – 1 hour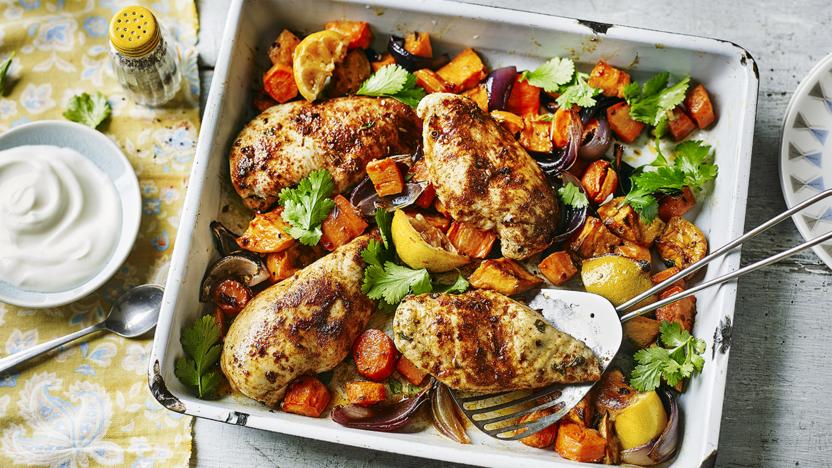 Who says you need to save Mediterranean food only for the Summer? This easy one pot recipe would make a lovely mid-week dinner or on days where you are short on time. If you don't have any ras-el-hanout spice, I would recommend substituting it for your own spices which you may have at home. I used equal parts paprika, cinnamon, pepper, nutmeg and coriander instead. I also personally left out the fresh thyme, coriander and natural yogurt, and it still tasted amazing!
Veggie (& Vegan) Paella
BBC Good Food
Prep Time: 30 minutes
Cook Time: 30 minutes – 1 hour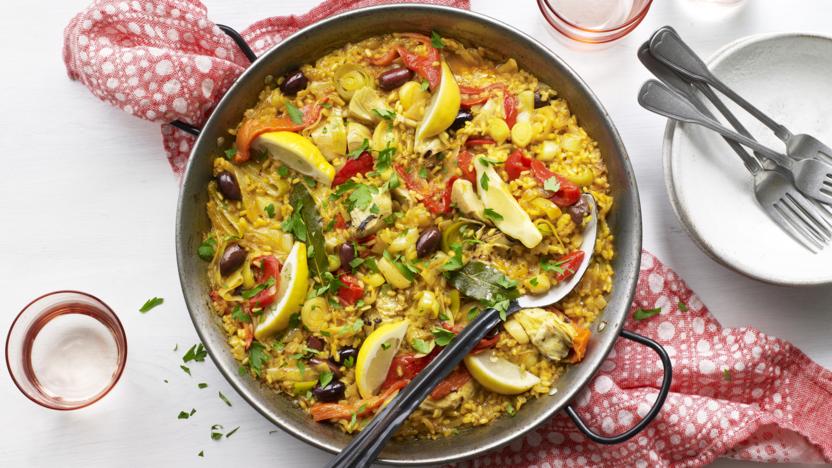 This vegetarian paella is sure to mix up your taste pallet. Rather than using saffron which can be very expensive, I use tumeric which adds enough spice and also gives that lovely golden yellow colour. I always find that rice takes at least an hour to cook though, so factor this in to avoid any hangry moments!
Chicken Katsu Curry
BBC Good Food
Prep Time: 25 minutes
Cook Time: 40 minutes
In absence of Wagamamas, try this easy-peasy recipe at home. If you want to simplify this even more, buy already breadcrumbed chicken like chicken goujons which will taste just as good. Unless you want to be fancy and serve this for guests, I don't see the need for ribbon slices of cucumber and carrot either. Remember that this recipe does serve four and it will absolutely be too much sauce for just two, so either halve the required amount or keep it for leftovers the next day. Serve this meal with a wedge of lime and enjoy!
If you liked this post, you should subscribe to keep up to date with what I'm talking about. Remember there will also be more content coming your way every day this month, don't miss out!
Come connect with me on socials:
Facebook | Natalia Talks About
Instagram | @nataliatalksabout
YouTube | Nataliatalksabout
You may also enjoy:
Mindfulness Chocolate Challenge!
5 Ways To Look After Yourself This Week
Emma Hardie's Starter Kit | Honest Review